More help and support
Since launching in 2013, we've run several events and other get-togethers for organisers of green open homes events. Nothing's scheduled at the moment, but below are outlines of past events along with some of the presentations which you may find useful.
---
Green Open Homes network event, Manchester 14 August 2015
This event was organised in partnership with the Carbon Coop and attracted attendees from across the north of England. It provided both well established and new open homes organisers the chance to hear about different approaches to running events and to discuss the future of the Green Open Homes network. It was held at Bridge 5 Mill in Manchester and pictures from event taken by the Carbon Coop are here.
---
Green Open Homes network event, 1 July 2014
This event was an opportunity for existing, new, and aspiring Green Open Homes event organisers to meet other organisers, share their experiences and learning, find out more about energy efficiency developments, and - most importantly - celebrate everyone's achievements. It was held at Lift Islington, London, N1 9PW
---
Green Open Homes October Roadshow, October 2013
We ran four free half-day events in four cities (Newcastle, Leeds, Stoke-on-Trent and London), talking with communities about the benefits of running an open homes event. We had a great contributions from guest speakers on approaches to open homes and energy efficiency, and we were joined by our project partners – Bristol Green Doors. You can hear a little more of how the events went in Kate and Dan's Bristol Green Doors blog at www.bristolgreendoors.org/blog.
You can download the presentations from all four events below. [Note that the downloads are PDFs made from Powerpoint presentations; we've done our best to optimise them for web viewing.]
---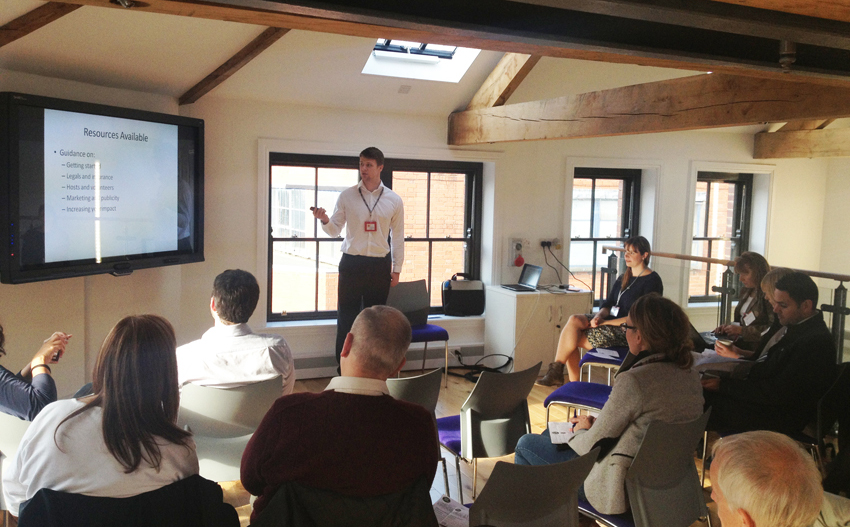 Above: a presentation at the Stoke event.
Get a free micro-site for your event
Event case studies & feedback from the organisers